RB Construction – Your Preferred Screwed Metal Roofing Installer in Maine!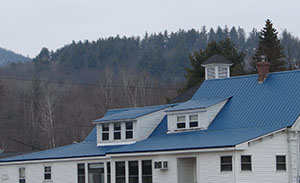 Today's technological advances in building materials have made it both practical and economical to use pre-painted steel panels for your Maine home or camp. Call RB Construction today to discuss if a screwed metal roof is the right application for your home in Maine.
RB Construction understands how essential a quality roof is to the structure of your home or business. When made from durable metals with rugged finishes, your roof can withstand many harsh New England weather conditions for years to come. We can install metal roofing on farm buildings, homes, cabins, camps and anything in between. Whether your home is located in Bethel, Sebago, Casco, Harrison, Bridgton or Windham, you can be assured that our team of highly qualified and experienced roofing installers will repair or replace your metal roof with high quality materials and workmanship.
RB Construction understands that no two roofs are the same. That is why we are proud to offer a variety of metal roof panels designed to stand the test of time even in the face of moisture, extreme temperatures, and other environmental hazards.
RB Construction is proud to use Everlast high quality products for screwed metal roofing products which are tried and tested in the harsh Maine climate.