How Cost Effective Is a Standing Seam Metal Roof?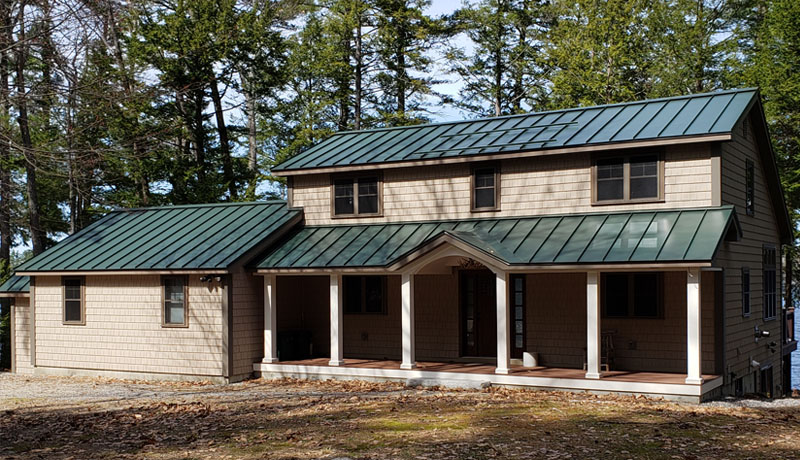 With a service life of 50 years or more, standing seam metal roofing is not just eye-pleasing, it is cost effective!  Maine has a harsh climate; ice and snow can take its toll on your roof.  A metal roof not only gives you peace of mind that your roof won't leak, it can save you headaches and hundreds of dollars in expensive roof repairs.  RB Construction is a premium installer of standing seam metal roofs in Maine.
Still undecided?  Our supplier Englert brings up some good points:
A metal roof will save you money and headaches in the log run
A metal roof can earn up to 25 US Green Building Council LEED credits
A metal roof increases a building's value
A metal roof won't rot, crack, crumble, split, break or burn
Metal roofs have coatings that prevent 75 to 80 percent of the sun's energy from being absorbed into the roof
Metal roofing is durable and maintenance free
Metal roofs are lightweight–less than 1/3 the weight of asphalt and one twentieth the weight of concrete
Metal roofs are made from recycled steel and aluminum material and are 100% recyclable
A metal roof can reduce roof surface temperatures by 60 to 70 degrees
Metal roofing is an ideal platform for integrating solar electric and solar thermal renewable energy solutions
RB Construction has been servicing and installing metal roofing in Maine for over 30 years.  For a list of service areas, click here.
If you would like a quote to install a new metal roof on your Maine home, please fill in the form below:
[contact-form-7 404 "Not Found"]